Wine fermentation tanks, (or "Wine Fermenters"), are key winemaking equipment components. These specialized tanks are made of food-grade stainless steel, concrete, wood, or other non-ferrous materials. During fermentation, yeast converts the sugars found in grape juice to alcohol. Wine fermenters facilitate and control the fermentation process. Well designed wine fermenters precisely control temperature, are easily cleaned and have safety features to protect winery operators.
Vitis Plata & Vitis Reserva Wine Tanks
Product Innovation in Wine Fermentation
Portland Kettle Works Vitis Wine Fermenters are the culmination of our experience producing over 1,000 fermenters for the craft beer and wine industry since 2011. Our fermenters deliver repeatable results for award-winning breweries and wineries, large and small, worldwide.
Our winemaking equipment is built on Portland Kettle Works pedigree for highest quality and peerless performance. It has the same spirit of innovation and quality that our global clients have come to expect and rely upon in all our products.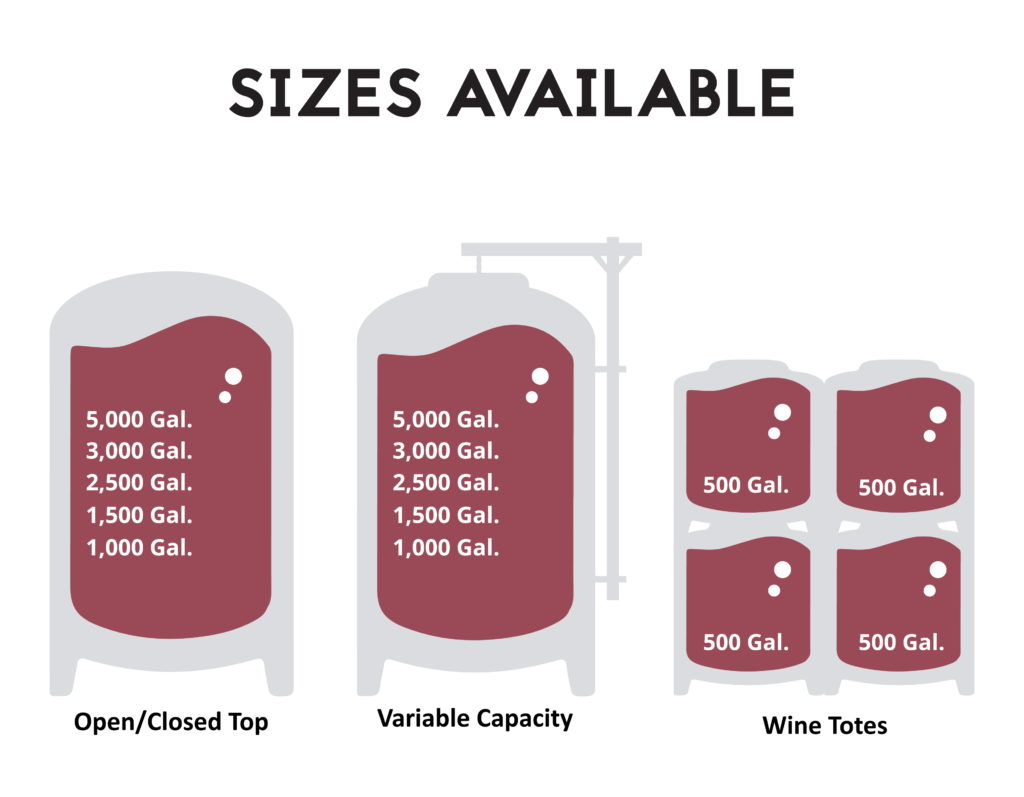 PKW Vitis Wine Fermenters are available in four configurations:
Closed-Top Wine Fermenters – Additional uses include wine storage, blending and packaging
Open-Top Wine Fermenters – Unlimited access to the tank cap
Variable-Capacity Wine Fermenters – Ferment batches of wine in your choice of sizes
Open-Top Wine Totes – Capacities from 2 to 6 ton with unlimited access to the tank cap
Click the image below for more information on the wine fermenter configuration of your choice:
All of our wine fermenters include the following standard features:
Vitis top (for closed-top configurations only):

Truncated conical top: can be either offset or centered for ease of cleaning and cap punchdown operations
Punchdown manway: fully welded into the truncated conical top, allows easy access into the tank for punchdown, inspection, and service
Zero pressure/vacuum break: prevents any pressure or vacuum buildup inside of the tank



Vitis sidewall:

Interior finish: smooth 2-B interior finish, blended and made sanitary at all weldment
Dimple jacket: our energy-saving precision laser-welded dimple cooling jackets are hydroformed and baffled to maximize turbulence and minimize load on the glycol cooling system. Both low- and high-pressure options are available
Dual-action manway (round): top inswing and outswing manway for complete racking access
Dump-out manway (square): outswing only and located at base of sidewall allows complete cleanout of pomace and wash debris
Drainage sump: both sump and ports are housed in a precision engineered, removable drain screen inside the tank
Racking port
Temperature Thermowell port: includes protective temperature control shield
Sample port: includes a sidewall valve so samples can be collected easily



Vitis bottom:

Sloped floor: enables easier dump-out, cleaning, and other interior operations
Tank mounting: can be either floor-mounted or mounted on PKW's proprietary ring stand
Portland Kettle Works is a premier American manufacturer of commercial winemaking equipment including wine fermenters and tanks for both red and white wine.
We leverage our experience in process engineering and fermentation management to provide tools that reduce your startup costs, lower your expansion risks and help you succeed.
Portland Kettle Works designs and engineers our wine fermenters with key winemaker issues in mind:
Safety – PKW places winery workers' safety and your success at the forefront of our design and engineering
Safety is key for any winery. Portland Kettle Works has years of safe design experience. We integrate key safety features like clean-in-place (CIP), modulating pump and transfer systems and emergency shut down. PKW uses UL listed 508A parts in every system we design, build, and ship from our Portland, Oregon USA manufacturing facility.
Sanitation – Wine safety begins with proper sanitation
All PKW tanks are designed and engineered using 304 food-grade American stainless steel to maximize sanitary features. Both the interior and exterior of all PKW wine fermenters and tanks are fabricated, welded, and blended to reduce cleaning time and expense.
Temperature Control – The key to winemaking repeatability and consistency
PKW replaces guesswork with simple, easy to use automation features for precise temperature control. We completely integrated these controls into our wine fermenters and tanks to make repeatability and consistency a hallmark of your brand.
---
Portland Kettle Works was founded in 2011 in Portland, Oregon USA. We build high-quality stainless steel beverage and brewing equipment. We have built and installed over 300 state of the art craft breweries worldwide. As a result, our craft brewing clients are among the best of the best. They regularly win beer tasting competitions and they have the gold, silver and bronze medals to prove it. We're expanding into winemaking so, if you're serious about winemaking, contact us so we can help you, too. And if you're located in Mexico or Latin America, click here to visit our Spanish language site.