CBD and THC mixing tanks are vessels used in the extraction, distillation, and isolation of products using THC (tetrahydrocannabinol, the primary psychoactive component of the cannabis plant ) and CBD (cannabidiol, the primary non-psychoactive component of the cannabis plant). In addition, CBD and THC mixing tanks are also used for crafting and manufacturing finished cannabis-based products such as beverages, tinctures, and isolates. CBD and THC mixing tanks are typically made of food-grade materials such as 304 stainless steel and are manufactured to exact specifications dependent upon their intended use, capacity, and the product to be produced.
Why Select a CannaMaster CBD / THC Mixing Tank?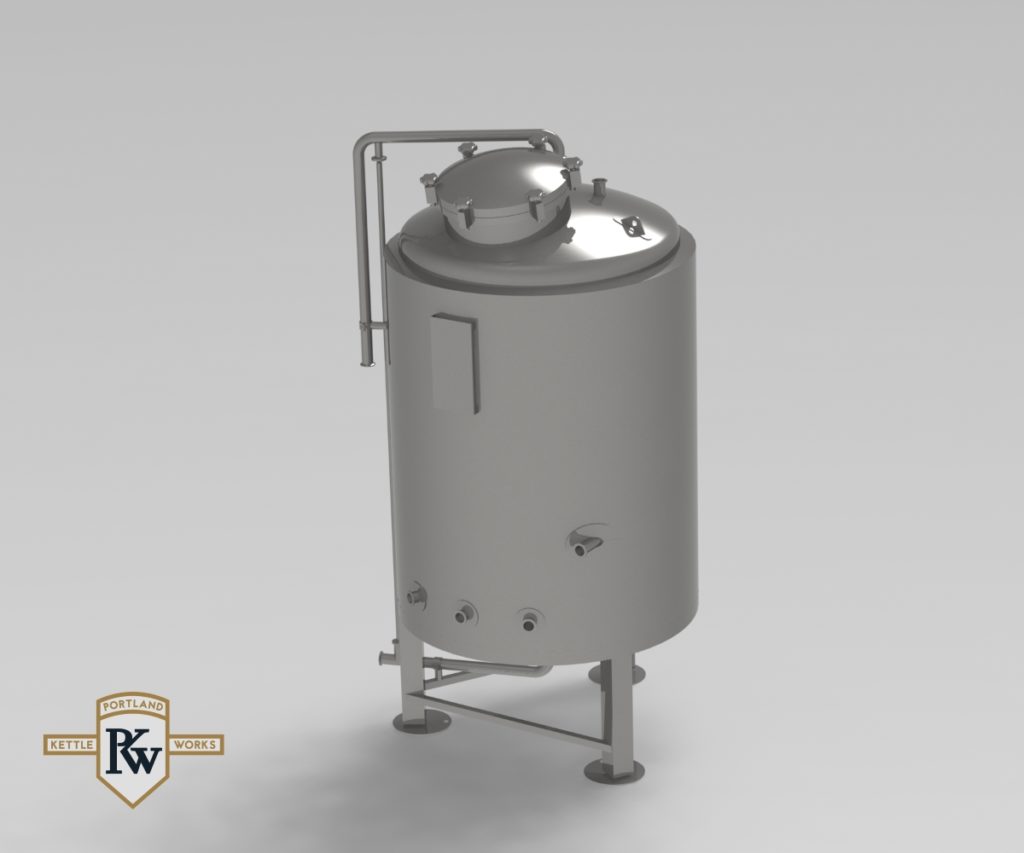 Portland Kettle Works is the premier American manufacturer of commercial CBD and THC beverage mixing and blending tanks. We have leveraged our experience in process engineering and process management to provide tools that reduce your startup and expansion risks and help to ensure your success.
PKW's CannaMaster THC and CBD beverage mixing and blending tanks are designed and engineered with the operator in mind. We have thoroughly thought through:
Safety
Sanitation
Efficiency
Consistency
Repeatability
Our mixing tank design allows the operator precise process control from start to finish including:
Volume
Temperature
pH monitoring
Carbonation and finishing
Mixing and blending
All PKW products come with:
3-year warranty
In-house
American-made quality
A buyback guarantee
Peace of mind that you are buying the best product from an industry leader and trusted OEM partner.
Buy factory direct. Buy PKW.
CannaMaster CBD / THC Mixing Tank Specifications
Safety – PKW places workers' safety and your success at the forefront of our design and engineering
Safe operation is a key component of any production beverage plant. Over generations of design, PKW has seamlessly integrated safety features into every system we design and ship from our American manufacturing facility located in Portland Oregon.
These safety features include:
Clean-in-place (CIP) facilities
Modulating pump and transfer systems
Emergency shutdown
UL listed 508A componentry
Sanitation – Food safety begins with proper sanitation
Every PKW CBD and THC beverage mixing and blending tank is equipped with our proprietary CIPMaster clean-in-place (CIP) technology. CIPMaster allows your production crew to effectively and efficiently clean every mixing tank in the facility without ever having to enter the tank to clean it.
Occupational Safety and Health Administration (OSHA) regulations make dangerous, confined space entry both time consuming and expensive. With PKW's CIPMaster, confined space entry is totally eliminated as vessels are scoured clean by simply pumping cleaning solution through our engineered CIP apparatus installed on every mixing tank we manufacture. Safety and sanitation are seamlessly managed in one simple operation.
Volume and Temperature Control – The key to repeatability and consistency
With PKW CBD / THC mixing tanks, every step of the way, your production crew will process at optimal flow rates, volumes, and temperatures, making repeatability and consistency a hallmark of your brand.
Further, PKW has mastered temperature control. Precisely heated or cooled water, called "liquor" in manufacturing operations, is conveniently mixed and measured using our proprietary sensor read, flow, and temperature control manifold assembly. We replace guesswork with simple, easy to use automation features that assure repeatability and precision. Temperature control is completely integrated into all of our mixing tanks, fermenters, and carbonation systems. Contact us for details.
pH Sensing and Control – Automation that makes your day the best it can be, and your brand stand out among your competition
pH is a critical control factor in many beverage production operations. With PKW's proprietary pH sensing and feedback system, pH can be accurately measured and used to automatically trigger process controls. Our optional pHMaster sensing and control system allows the operator to preset the desired pH band to either:
Notify the operator automatically that the desired pH has been obtained
Auto-cool/heat the tank and its contents to prevent over-processing
Convenience and repeatability are the goal, and PKW's pHMaster is designed to put winning results at your fingertips.

CBD and THC Mixing Tanks for Carbonation and Finishing
Carbonation and finishing tanks (sometimes called brite tanks) allow your brew crew to carbonate and/or finish your CBD and THC beverage for packaging. All PKW mixing tanks are equipped with state-of-the-art components including:
Carbonation ports for CO2 or Nitrogen gas infusion
CIPMaster clean-in-place system
Pressure and vacuum relief valve
Temperature reading and control facilities
Product sample port
Top-mounted manway
Optional features:


Agitator or tangential agitator port
Dimple jacket for glycol cooling or heating
pHMaster pH controls
Skid-mounted components for ease of installation
Modular and expandable designs
Wide range of production capacities, scalable to the size of your business