What is a Keg Washer?
A keg washer is a machine that cleans stainless steel beer and beverage kegs between uses. All keg washers clean kegs by sequentially flushing, washing, sterilizing, and pressurizing kegs. Most keg washers are semi-automatic, but both manual and fully automatic keg washers are common. A well-designed, efficient keg washer is an important time and labor-saving piece of equipment that helps to ensure the flavor and quality of your beer remains consistent.
Why Select a PKW Keg Washer?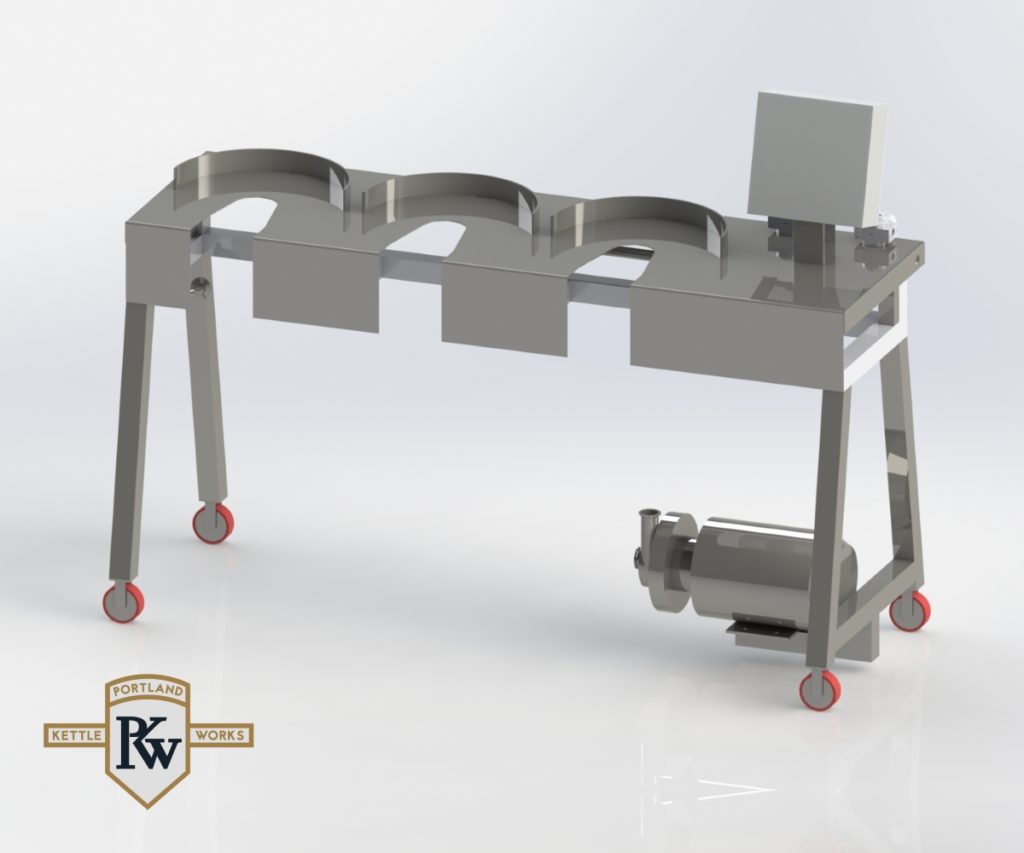 Portland Kettle Works' KegMaster keg washer has earned a reputation as one of the most consistent performing and easy to use semi-automatic keg washers to be found anywhere. The KegMaster will shorten your day while saving you money for years to come.

Portland Kettle Works' keg washers provide the brewer with several key advantages:
Eliminates the inherent possibility of dirty kegs entering your brewery's supply chain
PKW has a worldwide reputation for industry leading American design, engineering, and fabrication
Field tested by some of America's leading craft brewers
2-keg (14 kegs per hour) and 3-keg (20 kegs per hour) capacities available
Semi-automatic keg washers save time and standardize keg cleaning operations
Efficient, easy, fast and economical to use
Provides long-term cost savings over manual keg washers
Eliminates labor as a single person can manage keg cleaning for most craft brewery operations
The keg washer's small footprint saves valuable brewing space
Compatible with all PKW brewhouses and brewing systems
PKW Keg Washer Specifications
As with all our brewing equipment, Portland Kettle Works KegMaster keg washers are designed and manufactured to exacting standards.
Semi-automatic
Rinses, cleans, sanitizes, and CO2 purges
Fast and efficient:

2-head model cleans up to 14 kegs per hour
3-head model cleans up to 20 kegs per hour

Optional: hopback grant: 35 gallon (132.5 L) available in 4 options. All models include:

14 gauge, 304 food-grade stainless steel construction
Rests on easy-to-manuever rollers
Removable false bottom
Designed for use with all PKW KegMaster keg washers
Comes in 4 models:

Open top
Pressurized: includes manway rated to 14.7 PSI (1 bar), ultimate drain, and racking arm
Heated: includes heating element, temperature controller, ultimate drain, and racking arm
Heated & pressurized: includes manway rated to 14.7 PSI (1 bar), heating element, temperature controller, ultimate drain, and racking arm