What is a Fermenter?
Fermentation tanks, or more commonly fermenters, are key components in beer and kombucha brewing. Fermenters are specialized tanks designed to precisely control temperature and maintain the optimal conditions for fermentation, which occurs once the wort has been transferred from the brewhouse to the fermenter; a conical-bottom design is highly recommended for fermenters allowing for easier yeast harvesting.

Why Select a PKW Fermenter?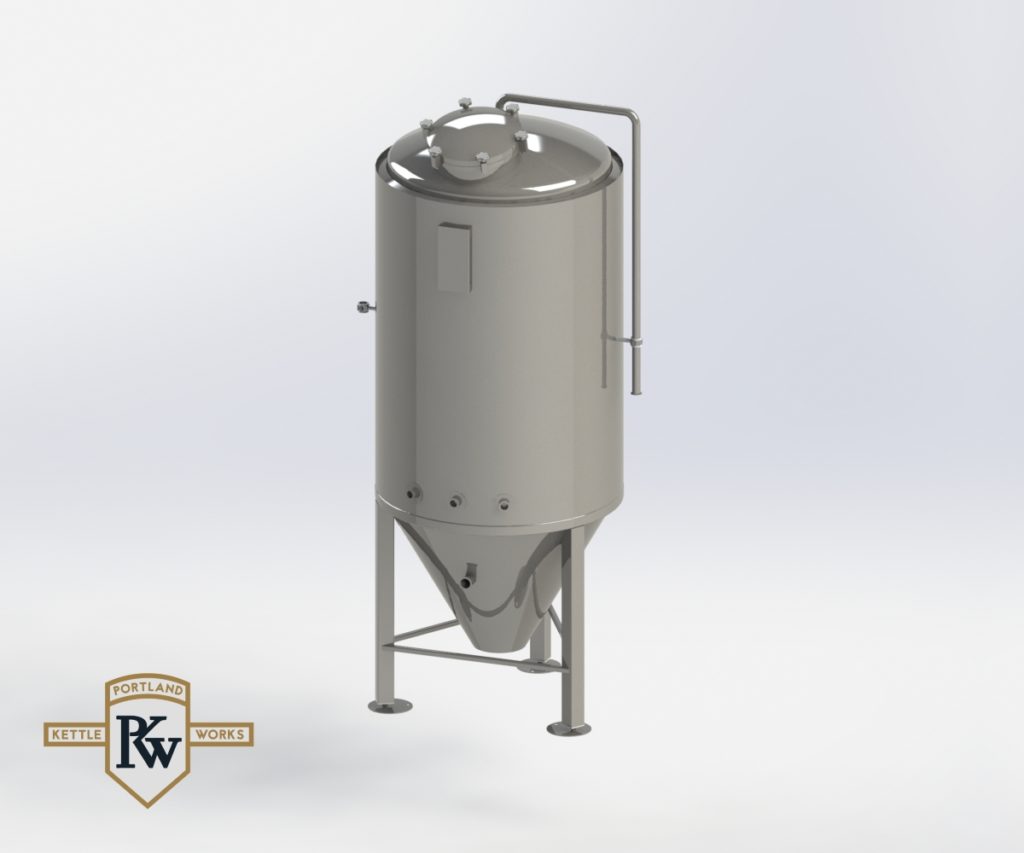 Portland Kettle Works' fermenters have earned a reputation as some of the most consistent performing, fastest crashing, and eye-catching brewery tanks to be found anywhere. Our fermenters will shorten your work day while continuing to provide a return on your investment for years to come.

Portland Kettle Works' Fermentation Tanks provide the brewer with several key advantages:
Every fermenter is equipped with a 4"/10 cm ultimate drain and 60 degree conical bottom for rapid and easy yeast harvest and clean-out
Precision laser welded dimple jacket with integrated baffling, reduces glycol demand and increases tank efficiency by 25%
A worldwide reputation for industry leading American design, engineering, and fabrication
Field tested by some of America's leading craft brewers
Insulated vessels add efficiency, minimize heat-loading, and reduce safety hazards
Made of 100% non-reactive, sanitary-finished, 304 food-grade stainless steel
Innovative design registers zero stress on the internal structure of the tank
Integrated Clean in Place (CIP) systems allow rapid and convenient cleaning
Manufactured using PKW's proprietary Flowing Quality Control (FQC) process which maintains the highest standards of quality throughout fabrication
PKW Fermenter Specifications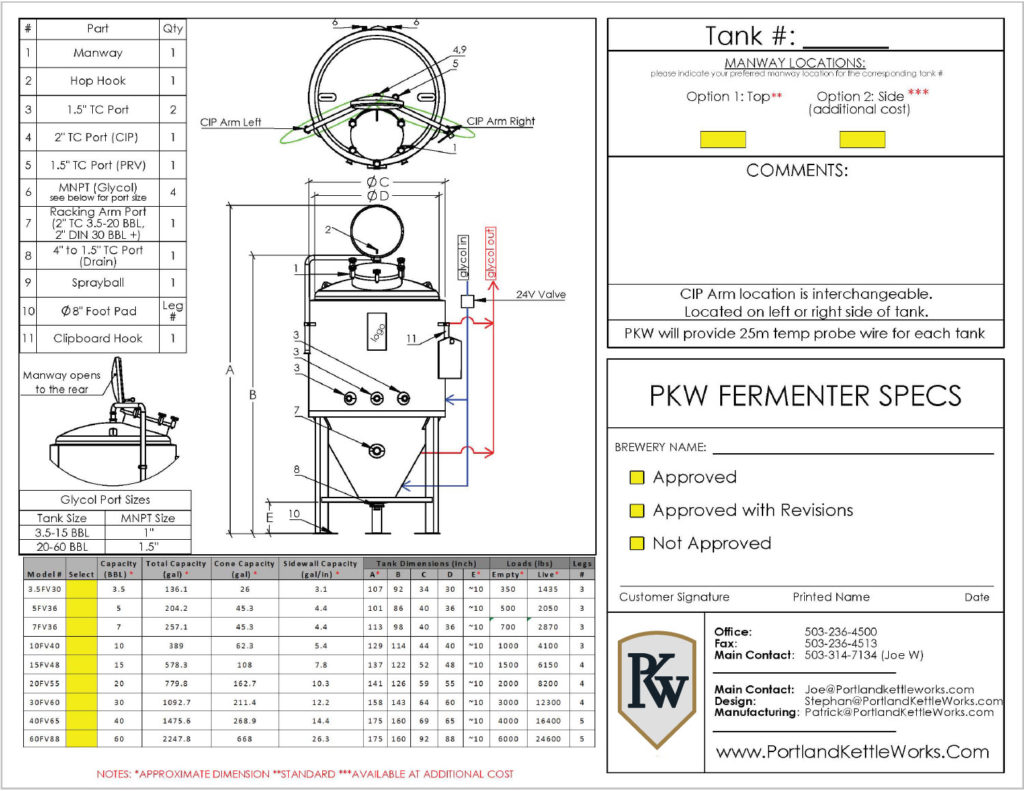 PKW Fermenter Spec Sheet
As with all our brewing equipment, Portland Kettle Works fermenters are designed and manufactured to exacting standards:
Capacities available include:

bbl: 2, 3.5, 5, 7, 10, 15, 20, 30, 40, 60, 90, and 120
hL: 2.3, 4.1, 5.9, 8.2, 11.7, 17.6, 23.5, 35.2, 46.9, 70.4, 105.6, and 140.8
Other capacities available upon request

100% food-grade 304 and 316 stainless steel, 12-gauge inner tank steel and 14-gauge shell materials
All fermenters are rated to 14.7 PSI (1 bar) operating pressure
Two-zone glycol jacketing encompasses the 60-degree conical cone and sidewalls
Top-mount manway (optional side-mount configurations available)
Complete thermal insulation of side walls and cones
All insulation is fire retardant fiber cloth (not foam)
All welds are blended and finished to a sanitary food-grade finish
Every fermenter is equipped with:

racking arm
pressure relief valve
blow-off/ clean-in-place (CIP) tube
CIP spray ball
sample valve
butterfly valves
TC clamps, gaskets and clamps
90-degree elbows
optional rupture disc assemblies available