What is a Brew Kettle?
Brew Kettles, key components of any brewhouse, are where wort is boiled and reduced for approximately 60 to 90 minutes. During boil, initial hop additions are introduced into the brewing process. After boil is complete the wort is whirlpooled to separate unwanted solids from the desired liquid. It is generally recommended that brew kettles be made of stainless steel or some other sturdy, nonreactive material. In addition, brew kettles should be over-sized at a minimum of 40% to reduce the risk of boil-over.

Why Select a PKW Brew Kettle?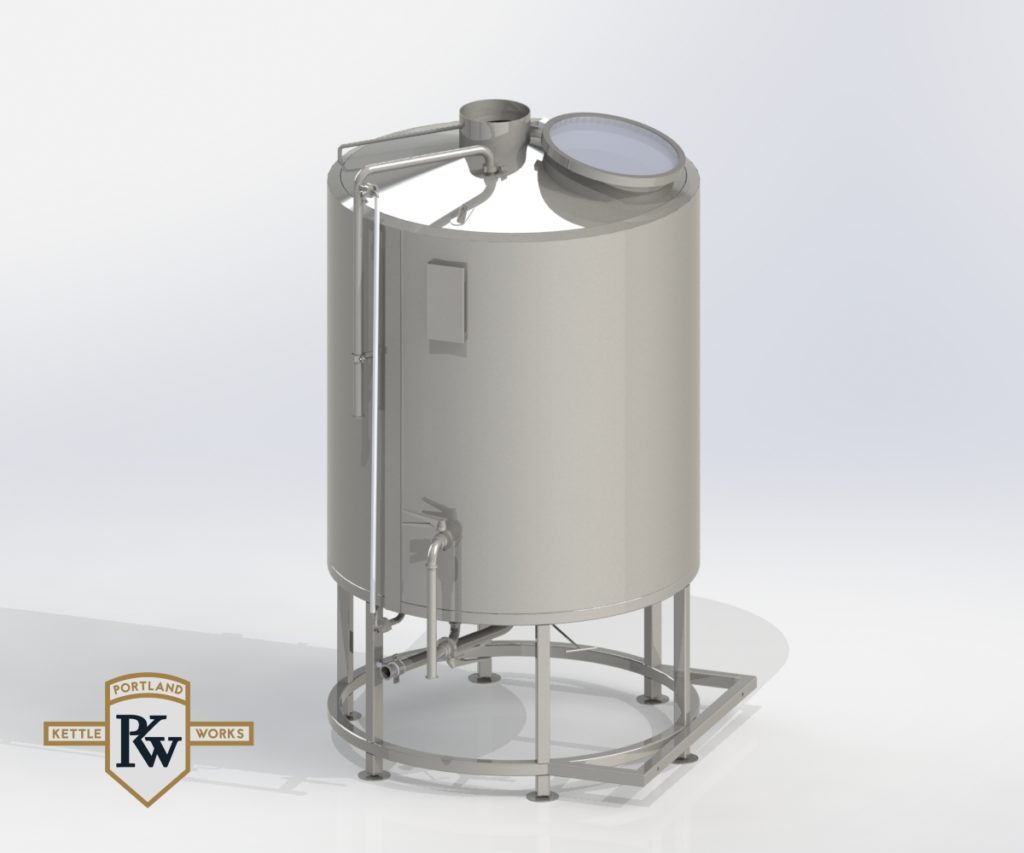 Portland Kettle Works' brew kettles provide the brewer with several key advantages:
Field tested by some of America's leading craft brewers
Insulated vessels add efficiency, minimize heat loading, and reduce safety hazards
Manufactured of 100% non-reactive, 304 food-grade stainless steel
99% evacuation of evaporate means lower humidity and heat-load in the brewery
Integrated vent stack drip ring reduces dimethyl sulfide (DMS) formation
Unique conical bottoms in both indirect fire and steam-fired brew kettles guarantee 100% drainage
To reduce boil-over, all PKW brew kettles are over-sized to 140% of batch capacity
Integrated Clean in Place (CIP) systems allow rapid and convenient cleaning
PKW Brew Kettle Specifications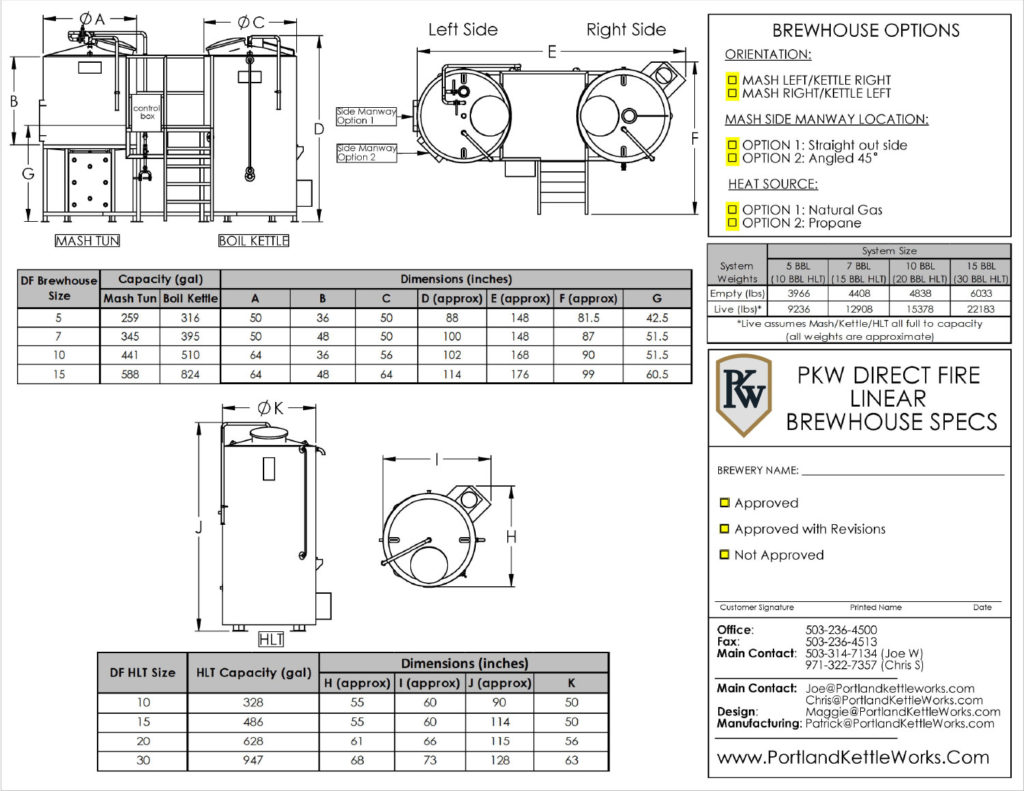 PKW Brewhouse Direct Fire (5 to 15 bbl) Spec Sheet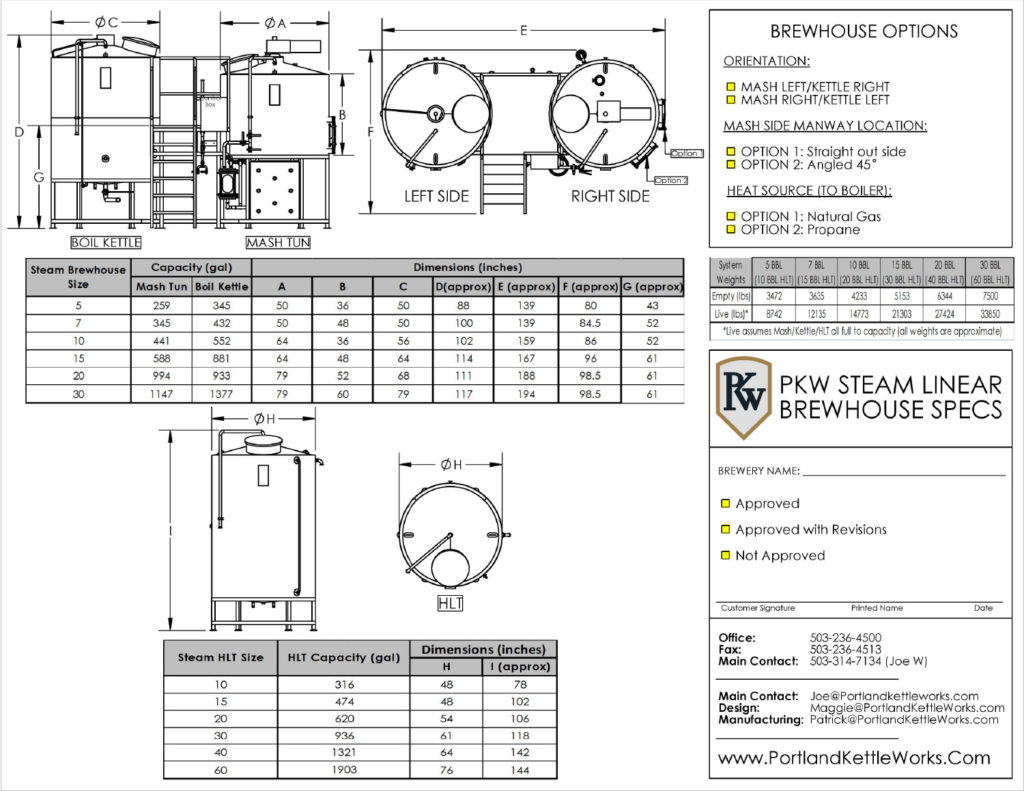 PKW Brewhouse Steam (5 to 30 bbl) Spec Sheet
As with all our brewing equipment, Portland Kettle Works brew kettles are designed and manufactured to exacting standards:
Capacities available include:

bbl: 2, 3.5, 5, 7, 10, 15, 20, and 30
hL: 2.3, 4.1, 5.9, 8.2, 11.7, 17.6, 23.5, and 35.2
Other capacities available upon request

100% 304 food-grade stainless steel
Proprietary Laser Plate heat transfer surfaces engineered to optimize efficiency
Clean-In-Place (CIP) system installed
Integrated sight gauge
Tangential whirlpool port
Removable trub retainer assembly
2"/5 cm center mount ultimate drain designed for fast and easy trub removal
Integrated 8″/20 cm port with gutter for vent stack
Top enclosure
Steel manway