Open top wine totes are used for oxidative wine fermentation and storage of juice and grapes. Used primarily for red wines, while fermenting the open tank gives the winemaker access to the "cap" which is formed from the wine skins on the top of the tank as the wine ferments. The winemaker, using a paddle, can gently stir or punch down the cap back into the wine in the tank.
Wine fermentation tanks, or wine fermenters, are key components in winemaking. Wine fermenters are specialized tanks made of food-grade stainless steel, concrete, wood, or other non-ferrous materials. Wine fermenters are specifically designed to facilitate and control the wine fermentation process wherein yeast converts the sugars found in grape juice to alcohol. Well-designed wine fermenters precisely control temperature, are easily cleaned, and are engineered with safety features that eliminate hazards to winery operators.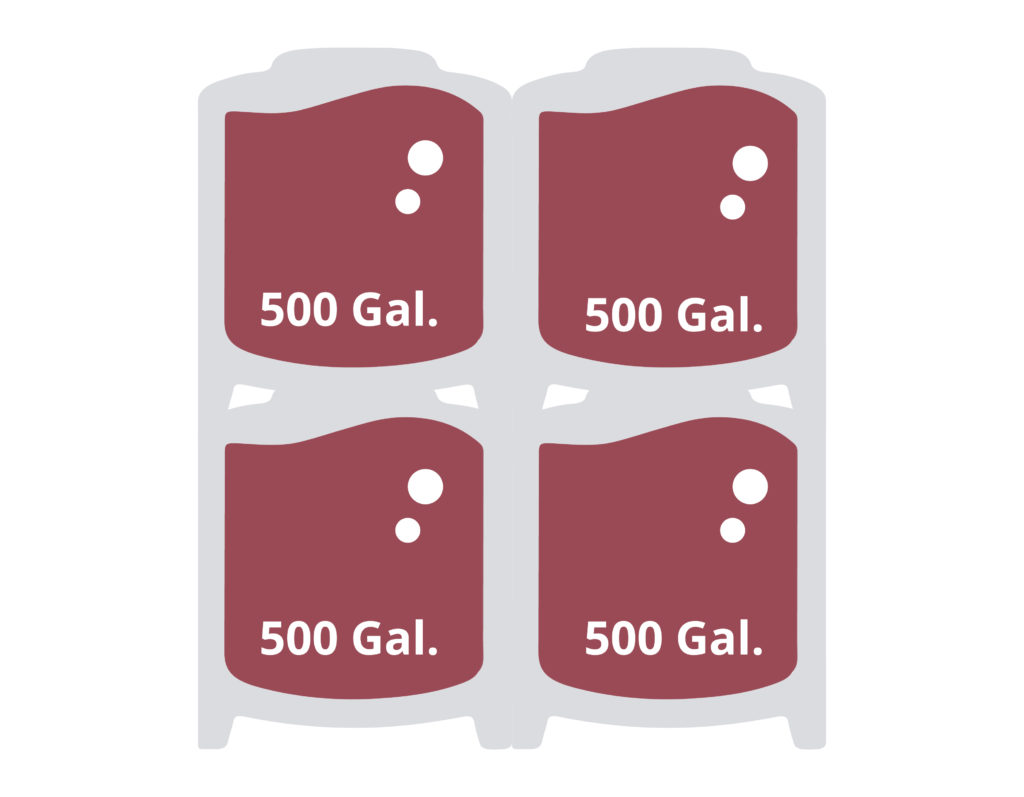 PKW Vitis open top wine totes are the culmination of our experience producing over 1,000 fermenters for the craft beer and wine industry since 2011. Our fermenters are becoming the industry standard. They are being used to innovate recipes and deliver repeatable results for award-winning breweries and wineries, large and small, worldwide.
Standard features of Vitis open top wine totes include:
Vitis sidewall:

Interior finish: smooth 2-B interior finish, blended and made sanitary at all weldment
Dimple jacket: our energy-saving precision laser-welded dimple cooling jackets are hydroformed and baffled to maximize turbulence and minimize load on the glycol cooling system. Both low- and high-pressure options are available
Dual-action manway (round): top inswing and outswing manway for complete racking access
Dump-out manway (square): outswing only and located at base of sidewall allows complete cleanout of pomace and wash debris
Drainage sump: both sump and ports are housed in a precision engineered, removable drain screen inside the tank
Racking port
Temperature Thermowell port: includes protective temperature control shield
Sample port: includes a valve in the sidewall that allows easy samples to be collected



Vitis bottom:

Sloped floor: enables easier dump-out, cleaning, and other interior operations
Tank mounting: can be either floor-mounted or mounted on PKW's proprietary ring stand
Specification: Vitis Wine Totes, Open-Top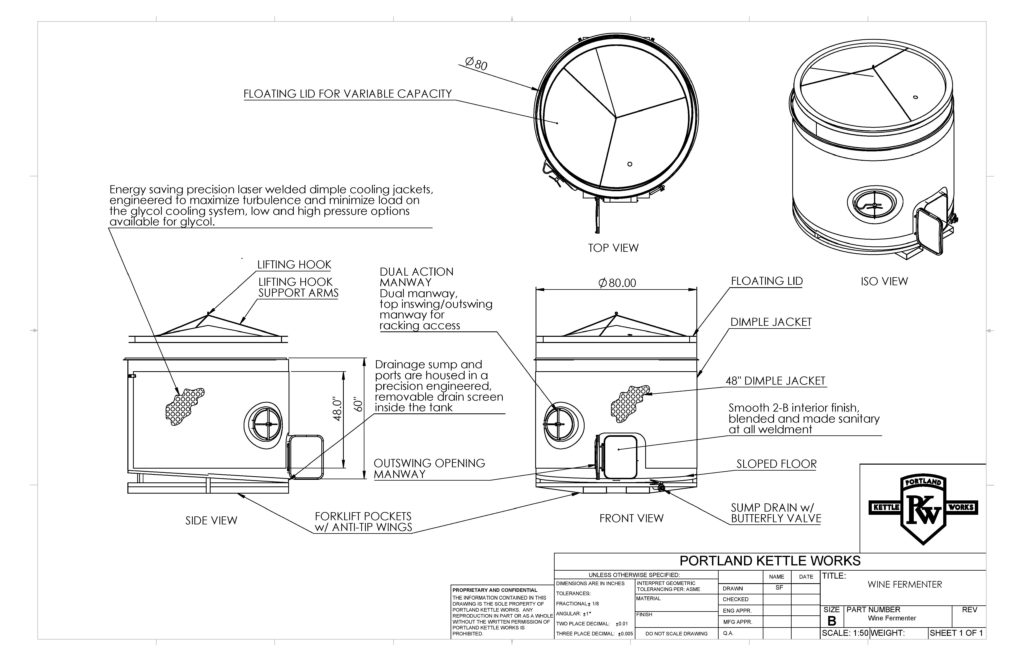 PKW Vitis Open-Top Wine Tote Spec Sheet
Portland Kettle Works is the premier American manufacturer of commercial brewing and winemaking equipment including wine fermenters and tanks for both red and white wine. We have leveraged our experience in process engineering and fermentation management to provide tools that reduce your startup and expansion risks and help to ensure your success.