"Most of opening a brewery is an unfounded, uncontrollable urge that you have to do this."

Band of Bohemia Co-Founder and Head Brewer Shares His Experiences Starting a Successful Chicago Brewpub
Fact: Band of Bohemia is the world's first-ever Michelin-starred brewpub. In the internationally-famous guide's own words:
"So much more than a working brewery with a talented kitchen, Band of Bohemia is in fact a truly inspired gastropub that produces its own utterly unique creations both in the glass and on the plate… Stainless steel tanks [from Portland Kettle Works] displayed in the back hold the culinary minded handiwork of their head brewer. Those rich brews are matched seamlessly to the kitchen's boundless small and large plates, which defy expectations with delicious success." – Michelin Guide
Michael Carroll, Band of Bohemia's Co-Founder and Head Brewer, recently took time to talk with Portland Kettle Works and generously share his thoughts on starting this successful Chicago brewpub.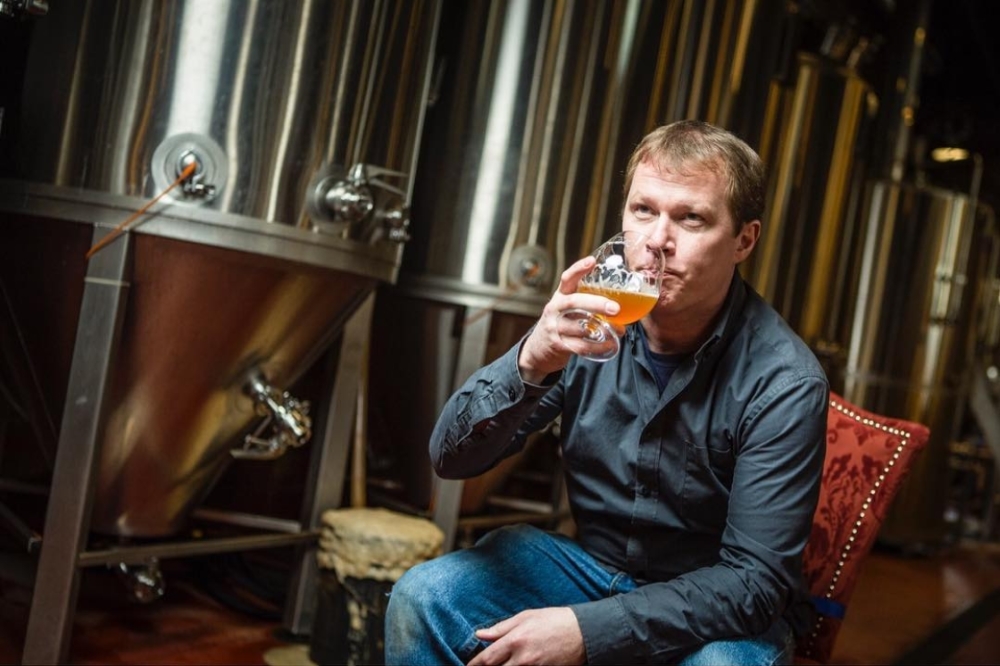 Head Brewer Michael Carroll samples a fresh beer comfortably seated among his PKW fermenters and other brewing equipment
PKW: Where did you find the courage and inspiration to start your Chicago brewpub?
BOB: Lots of drugs and alcohol! Well, really, courage isn't the proper term I don't think. Most of opening something like a brewery is an unfounded, uncontrollable urge that you have to do this. A compulsion, if you will, to follow your dream, and take it all the way no matter the cost. And that cost is much more than just money. Money is stupid ꟷ your heart and soul matter, and if you are doing it right, these two will take a beating (this is all null and void if you are rich in money, and you can do whatever you want with little consequence…). For those of us that aren't rich, a lot of blood, sweat, and plenty of tears await. But then, at the end of the day, you have a brewery and good people to enjoy your labors, and it makes it worth it all somehow.
As for inspiration, for us at Band of Bohemia, it all started as anti-inspiration of a sort. I had been to a new brewpub in the area that was serving the same old chicken wings, burgers, fries, and so on, and for some reason, it really annoyed me. So much so that I immediately wrote a 2 page "business plan" that was really more of a story of having beer brewed to specifically pair with food that we then make once the beer is done, sort of reverse engineering for pairings. [Then we added to that] great service, a stellar wine program, and cocktails all under the umbrella of a brewpub. Aside from that inspiration, having been a homebrewer for many years and then working in a real production brewery, well, let's say the beer bug wasn't going away anytime soon, and sometimes ambition gets the better of us, and we go back to the compulsion of having to do something.
PKW: What was the biggest challenge in starting your Chicago brewpub and how did you overcome it?
BOB: The biggest challenge was finding the funds to get it started, an investor group to put in money to allow us a small business loan. From there it was a long time, almost a full year of haggling with investors, the bank, and ourselves. All told, it took us five years from writing that two-page "business plan" (which was about 100 pages by the end) to opening day. And we have a brewpub, so you need to factor in opening a brewery as well a restaurant, each of which provide unique challenges. Sadly, in the end, it's always about money.
PKW: Now that you've gone through the process, what would you do differently?
BOB: Honestly, a smaller brewhouse would have been better for what we do here. As well, we would have bought a large cooler and kegs instead of brite tanks for each beer; it has actually limited us in what we can do. But as you know, hindsight knows best. That's obviously not for everyone, but as a brewpub, our main focus is on in-house sales and not so much on packaging. We like to experiment constantly, so having more options to create new and different beers has a high interest for us.
PKW: What has brought you the most success in your business?
BOB: For us, again we are a bit different than most, but we have the honor of receiving a Michelin star, which carries a lot of weight for universal recognition.
PKW: What's your funniest/most memorable moment at the Chicago brewpub so far?
BOB: Well, it was on one of my earlier brews, during the evening of our industry soft opening. I brewed a high gravity beer with persimmons and honey and thought nothing of it and left the blow-off as usual. I came into the brewery a while later and noticed a fine mist in the air, and the blow-off bucket no longer bubbling. Further investigation found that the PRV [pressure relief valve] was hissing and spraying yeast into the air. This was followed immediately by a few expletives, a ladder, and a warning to everyone in the area to get back! I was forced to open up the PRV to release the pressure, which as you can imagine was a force to be reckoned with. With one hand on the clamp, the other holding the PRV, I opened her up to a spray of wort that went pretty much everywhere. Now, of course, I held my hand over it so that it didn't really get completely everywhere, but the floor and wall and myself were soaked. With the unfermented wort, yeast, honey, and persimmons, I had some sexy, luxurious hair for the next few days. Now, whenever brewing higher-gravity fruit beers, we always attach a long blow-off hose to the PRV port to avoid any clogging. Lesson learned.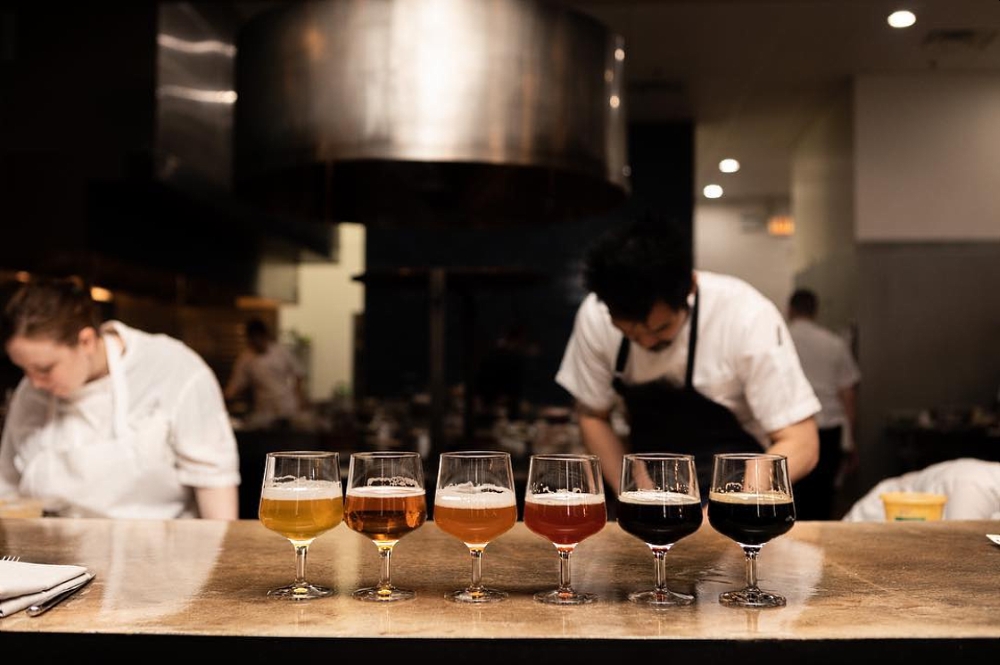 The Band of Bohemia kitchen prepares for a beer and food pairing
Because it can be hard to get a reservation at Band of Bohemia, make sure you book this Chicago brewpub before you travel.  This popular Michelin-starred gastropub is guaranteed to satisfy.